By Dan Canobbio
I've officially worked as a CompuBox operator for 6 years now but grew up the son of Bob Canobbio, the creator and president of the company. So I've been around the sport for a long time and have seen things most kids should not see. But everything pales in comparison to the pure carnage that is a Rocky Balboa prizefight. We've been asked numerous times to break down the fights using our stats. We finally obliged. The results did not disappoint.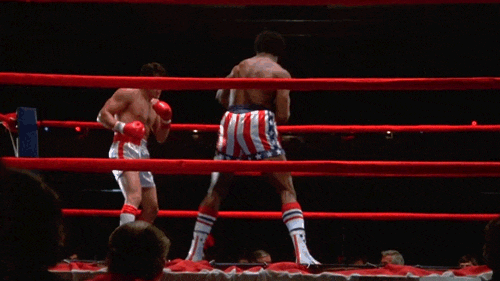 CREED VS. BALBOA 
KEY STATS:
CREED OUTLANDED ROCKY 25-3 IN OPENING ROUND 

CREED LANDS 21/25 JABS ATTEMPTS IN ROUND ONE

ROCKY BOUNCES BACK AND LANDS 15 PUNCHES (13 BODY SHOTS)
How many times have we seen this situation play out in boxing — a relative unknown gets an undeserving title shot and wilts under the pressure. That looked like the case for Rocky Balboa, a middle of the road heavyweight fighting out of the proud city of Philadelphia. Balboa looked completely over matched, spending the opening round like a fish out of water while Apollo Creed landed at will. But boxing is the theater of the unexpected. Rocky only managed to throw one punch in the first two minutes. Lucky for him, it landed, sending the heavily-favorited Creed to the canvas. Outside of the knockdown, Creed landed 21 of 25 jab attempts —  a  work rate you just don't see. The 15th and final round played out like the 14th ended; with Balboa attacking the ribs of Creed, landing a fight-high 13 body shots in the frame. Rarely do you see such dedication to the body. Creed only manages to throw five punches in the three minutes but since he did enough earlier in the fight, Creed squeaks by with the win. Rocky Balboa is officially on the scene.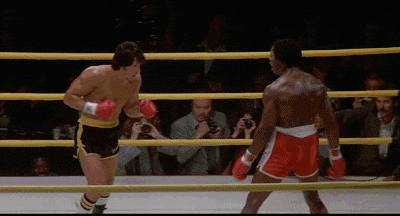 CREED VS. BALBOA II
KEY STATS:
CREED OUT LANDS BALBOA, 61-7 IN RD 1 (26-0 TO OPEN FIGHT)

CREED OUT LANDED BALBOA, 92-37 OVER FIRST TWO ROUNDS

CREED OPENED UP 15TH ROUND OUT LANDING ROCKY, 15-0

BALBOA OUT LANDED CREED, 41-31 IN 15TH ROUND AFTER TURNING BACK TO SOUTHPAW
Apollo Creed was hell bent on showing the world his first fight with Rocky Balboa was a fluke. Rocky on the other hand, doesn't need the fight. He has a beautiful wife, new found fame and glory but like most fighters do, Rocky goes broke. So in desperate need for some cash, Rocky signs on the dotted line and  the most anticipated rematch in boxing history is set. Creed comes out and absolutely bludgeons Balboa in the opening round, out landing him 61-7 — including something I've never seen in my years as a punch counter: 26 unanswered power shots! 26!  Due to the injuries he sustained in the first fight — injuries that would end most careers and lives if we're being honest — Balboa decides to fight in the orthodox stance. This has to be one of the worst tactical mistakes in a big-time fight. Creed built a commanding 92-37 edge through the first six minutes. Blowout central.  An old-fashioned whooping. Creed did not relent until Balboa finally comes to his senses and switches to southpaw in the 15th round. Now this is where it gets nutty. Balboa finds his groove and not only manages to out land Creed 41-31 but sends him flying to the canvas with a massive left hand. Despite not being struck with a punch, Rocky goes down too. The referee, confused and bewildered,  had no choice but to begin his 10-count for both men. It was Rocky who got to his feet at the count of nine while Creed laid folded up like a lawn chair. The Rocky Balboa era had officially begun.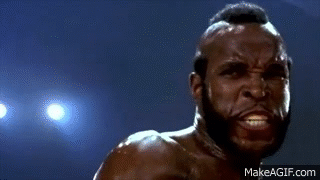 BALBOA VS. LANG
KEY STATS:
71 TOTAL PUNCHES THROWN IN THE FIGHT, 0 JABS

LANG OUT LANDED BALBOA, 32-31 IN THE FIGHT

ROCKY LANDED 30 PUNCHES IN ROUND ONE | JUST ONE IN RD 2
By this point in Rocky's career, he had it going on. He had reeled off 10 consecutive title defenses, had more money than he knew what to do with and was about to set off on a well-deserved retirement tour.  In steps, Clubber Lang. A menacing, bruising young heavyweight who up until this point has knocked everyone out.  Absolutely no one wants Balboa to fight this guy. So, naturally he does.  Even his long-time manager suffering a debilitating heart attack in the locker room moments before the fight couldn't stop Rocky from stepping through those ropes. A clearly distracted Rocky enters round one. How much of a war was this fight? 71 punches were thrown in the two frantic rounds of action. None of which were jabs. All power shots. Two guys just wingin'.  Reminiscent of the first round of instant classic Marvin Hagler vs. Thomas Hearns, when Hagler threw 81 punches in the first round, all power shots. Rocky knew Lang was a killer and had to get him out quick as he landed the fight's first 18 shots. Only thing is, Lang landed 19 of his own. Rocky knew he was in a world of trouble.  It's the second round when scales tipped drastically to the side of Lang. He blitzed the helpless Balboa, out landing him 30-1 — the 30th — one of the most brutal knockout punches in heavyweight history. Boxing has a new heavyweight champion and his name is Clubber Lang.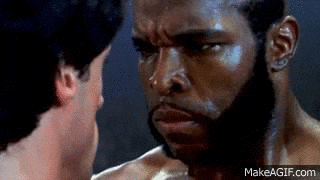 LANG VS. BALBOA II
KEY STATS: 
ROCKY OUT LANDS LANG, 32-0 IN FIRST MINUTE OF ROUND ONE

ROCKY SETS NEW COMPUBOX RECORD LANDING 49 JABS IN ROUND ONE

LANG THROWS 92 PUNCHES UNANSWERED BLOWS 
In the heavily anticipated rematch, Rocky has another genius game plan. He decides his best path to victory is to blitz Lang early, open himself up for punishment and hope his opponent exhausts himself from punching him in the face so many times. So Balboa does what he's done so many times in his career,  he bamboozles his opponent the first moment the bell rings. He out lands  Lang,  32-0 in the first minute of the opening round. 32 guttural blows to the ribs and head of Lang. In the midst of this breathtaking round, Rocky sets a new CompuBox record, landing 49 of 51 jabs (Fun fact: Vladimir and Vitali Klitschko are No.2 with 38 landed in a round). It's at this point Balboa implements his bold strategy and Lang cooperates. Clubber throws 92 consecutive punches sending poor Rocky flailing like a fish out of water. Two viscous knockdowns later — one of which wasn't even counted by the ref — Rocky has the champ right where he wants him. Balboa, never one for defense, eludes 10 straight punches before he smells blood in the water. His final barrage looks like this: 
Total Punches Thrown/Landed: 76/82 (93% accuracy)
Power Thrown/Landed: 40/45 
Jabs Thrown/Landed: 19/20
Body Shots Thrown/Landed: 17/17
Rocky gets his title back. Order restored in the world. 

BALBOA VS. DRAGO
KEY STATS:
ILLEGAL TAKE DOWNS: 2

MELEE'S: 2 

DRAGO LANDS 61/72 TOTAL PUNCHES IN ROUND 1

AFTER LANDING 91 PUNCHES, ROCKY CUTS DRAGO

ROCKY'S STATS AFTER CUTTING DRAGO: 17/18

ROCKY'S 15TH ROUND: 36/37 TOTAL PUNCHES
With a whole country behind him and Cold War animosity lurking in the air, Ivan Drago went into this exhibition match looking to make quick work of his American adversary. The Russian, built of iron by Rocky's own admission, used his vast reach advantage to land 71% of his jabs, keeping the American off balance and bewildered. Drago landed 61 total punches in the frame. Rocky only managed to fire off a measly 20 punches in total. Utter domination. The fight took a turn in round two, when Rocky — who had absorbed 91 punches to this point — finally connected on a right hand to open up a cut above the brow of Drago. Balboa pounced and landed 17/18 punches after the cut. Back and forth they went for the next 12 rounds. The two men answered the bell for the 15th and just when you thought Drago was going to waste Balboa, Rocky used the final 60 seconds of the fight to land 36 unanswered blows, temporarily removing Drago from his senses while winning over the coldest of crowds in the process.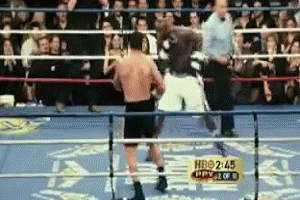 BALBOA VS. DIXON 
KEY STATS:
82ND FIGHT OF BALBOA'S CAREER

DIXON DOMINATES RD 1: 35-7 IN TOTAL PUNCHES

ROCKY LANDS 26/28 AFTER DIXON BREAKS  LEFT HAND

10TH ROUND: DIXON EDGES BALBOA, 33-28 TO GET THE DECISION
At the ripe age of 59 and against his families and most doctors wishes, Rocky Balboa makes the 82nd ring walk of his illustrious career, this time for an exhibition match vs. the current heavyweight champion of the world, Mason 'The Line' Dixon. Dixon is in a classic no-win situation; he's expected to beat up the old legend but should he lose, his legacy is tarnished forever. So Dixon comes out of the blocks hot, landing his jab at will and following with lethal power shots. Dixon out lands Balboa, 35-7 in the opening frame. Balboa on the other hand was looking every bit a 59-year old fighter, floundering around the ring, throwing only seven punches. But much like when Balboa cut Drago in the second round of their thriller, Rocky caught a break when Dixon appeared to break his left hand on a body shot. Balboa, the whylie vet, pounced on the compromised champion, connecting on 26 of 28 shots after the injury — including 14 body shots — the last sending Dixon to the canvas. The pair exchanged punishment for the next seven rounds and with the fight hanging in the balance, Dixon opened up the 10th and final round by landing 20 consecutive shots, knocking Balboa down for the third time of the fight. But this is Rocky Balboa we're talking about. The last fight of his life. The last round of his life. Balboa gets up and the pair slug it out to end the fight. Dixon only out lands Balboa, 33-28 in that final frame, needing every last punch to earn the split decision win. But in a fight like this, the official outcome doesn't mean much. Rocky may have lost but walks off a winner yet again.